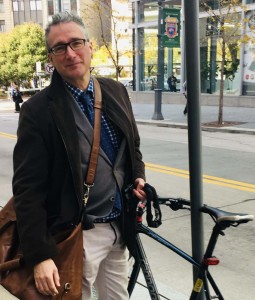 Gastilworks is headed by Ray Gastil, a city planner, educator, author, and non-profit leader with more than two decades of experience in innovative urban design, planning, and development. The practice has been founded to focus on contributing to thriving communities and regions, through planning, engagement, and design. The work focuses on the relationship between the public realm of shared resources and their relationship to projects and districts. Areas of expertise and partnership include planning and urban design for neighborhoods, complete streets and urban mobility, campuses, waterfronts in transition, mixed-use developments, and district revitalization, as well as strategic planning for civic organizations.
Recently, as Director of the Remaking Cities Institute, Carnegie Mellon University, School of Architecture, Gastil worked to connect ambitious programs and design concepts to the challenge of building projects and places that are grounded in their communities. His approach has been informed by his previous positions including, City Planning Director, City of Pittsburgh, as well as Manhattan Office director for New York City Planning, city planning director for Seattle, founding director of Van Alen Institute: Projects in Public Architecture, and Transit-Oriented and Regional Design director for Regional Plan Association in New York, New Jersey, and Connecticut.
Gastil contributed the essay "Complexity and Continuity in the Transformation of Pittsburgh's Rivers and Riverfronts," in River Cities, City Rivers and is author of Beyond the Edge: New York's New Waterfront and principal author of Success Looks Different Now: Design and Cultural Vitality in Lower Manhattan.
Gastil is a professional planner who has spoken on conference panels and served on awards committees of professional organizations including the National Endowment for the Arts, the American Institute of Architects, the American Society of Landscape Architects,  the Urban Land Institute and the American Planning Organization. He has taught seminars and studios in the built environment at institutions ranging from University of Pennsylvania to University of California, Berkeley, Penn State, and Pratt Institute. He is Affiliate Faculty, Landscape Architecture, CBE, University of Washington, and Senior Fellow, Remaking Cities Institute, SoA, Carnegie Mellon University. He is a board member of Riverlife in Pittsburgh and CALL: City as Living Laboratory, based in New York.